Claim These

$3000+ Worth Of Bonuses

When You

Upgrade To

Groove Platinum Lifetime

Through Aimee
These 8 Bonuses are YOURS when you upgrade to Groove Platinum Lifetime Offer
IMPORTANT: Watch the video below FIRST before you upgrade to ensure you receive your lifetime bonuses.
Not sure whether you signed up under me? here's what to do:
First try logging in to Groove's platform. You can double check the email you used by going to: your avatar profile image (located top right) > My accounts > Personal Information tab. (See screenshot below). Then head to my contact page here, fill out the form and let me know which email you used to sign up to Groove, I'll check the back office and get back to you ASAP!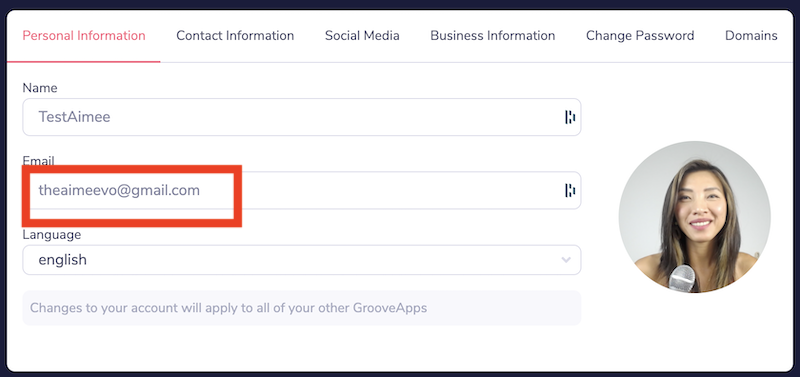 >> CLAIM YOUR BONUSES & UPGRADE TO LIFEIME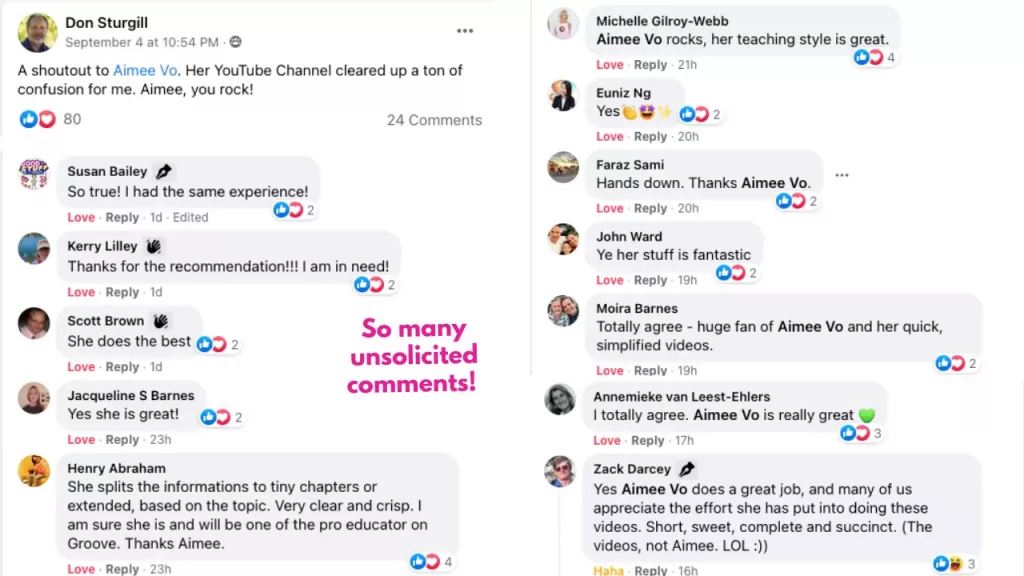 BONUS # 1: GOOGLE ADS BOOTCAMP COURSE
($1297 Value)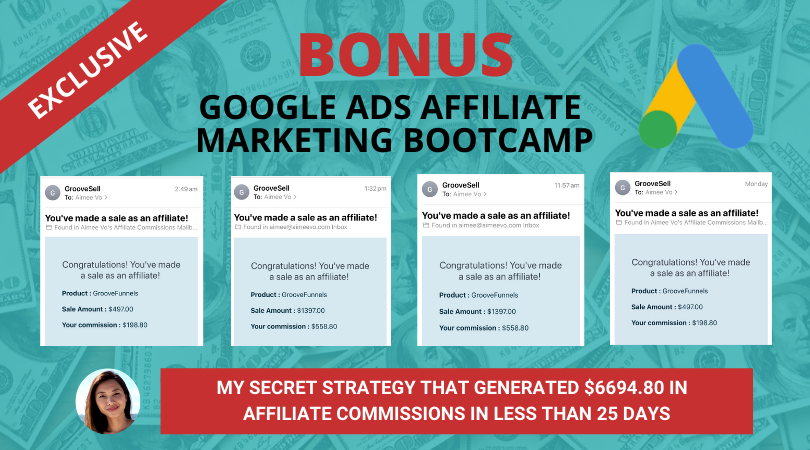 You're going to get access to my super secret Google Ads Bootcamp course.
This course is WORTH $1297 and is from real world life experience of making $10,000 worth in affiliate commissions on a small budget.
I have personally spent weeks recording every video showing you my step-by-step process on getting traffic to your offers.
This is the EXACT strategy I used to make $6,410 in Groove Affiliate commissions in less than 20 days and it works even better on NEW affiliate offers!
If you've seen any of my training on Youtube, you'll know I don't beat around the bush and this course is no different.
This is worth more than 10 bonuses put together and is a priceless skill that you can apply to any online and offline business you pursue.
This is the first time I'm revealing how to get to the top of Google while paying the least amount per click…
Google search traffic is one of the highest traffic sources online – Stop chasing customers and let them find you at the top of Google with their credit card in hand.
I DON'T sell this course online, it's created exclusively for Groove members who have signed up to a free account + upgrade to my link below.
People have asked to buy this course and I've said NO, it's only for lifetime members.
Checkout the screenshots below of what you will get inside: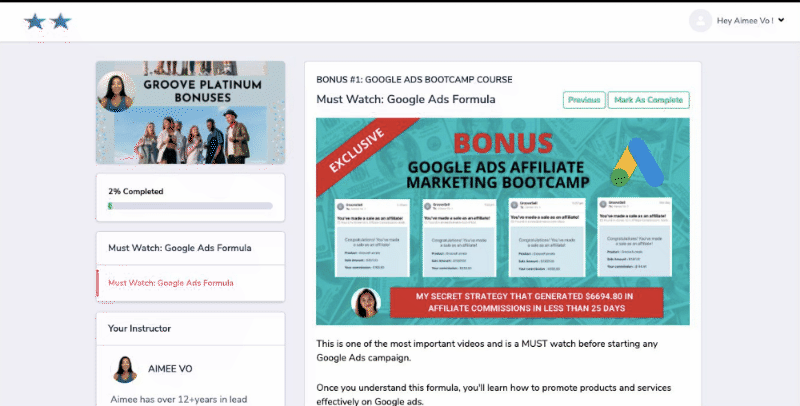 BONUS # 2: DONE-FOR-YOU BRIDGE & LEAD GENERATION FUNNEL TEMPLATES
($497 Value)
Use my done-for-you GroovePages bridge page and lead generation funnel templates to save time and money.
You don't have to hire a funnel designer, use these templates to build your email list from free traffic or drive paid traffic to generate leads.
These are simple funnel pages but I personally use them for my own marketing campaigns.
You get access to these pre-design landing pages and lead generation funnel templates:
Template #1: Bridge Page without an opt-in form – Use this template when you want to warm up your lead and pre-sell an affiliate product without collecting their email. This helps increase conversions and creating a retargeting audience.
Template #2: Lead generation with opt-in and thankyou page – This template has been used for free traffic and paid traffic, it works in both scenarios. Use this template to build your email list and generate leads and follow up with an email autoresponder or sequence.
Template #3: Lead generation with two columns opt-in and thankyou page – This template has been used for free traffic and paid traffic, it works in both scenarios. Use this template to build your email list and generate leads when you want your information to be above the fold where the user doesn't have to scroll as much.
Just make a few changes to your copy, swap out the image to your own, connect your email marketing provider and you're good to go!
BONUS # 3: 6 MONTHS OF WEEKLY PRE-WRITTEN EMAIL SWIPE FILES
($697 Value)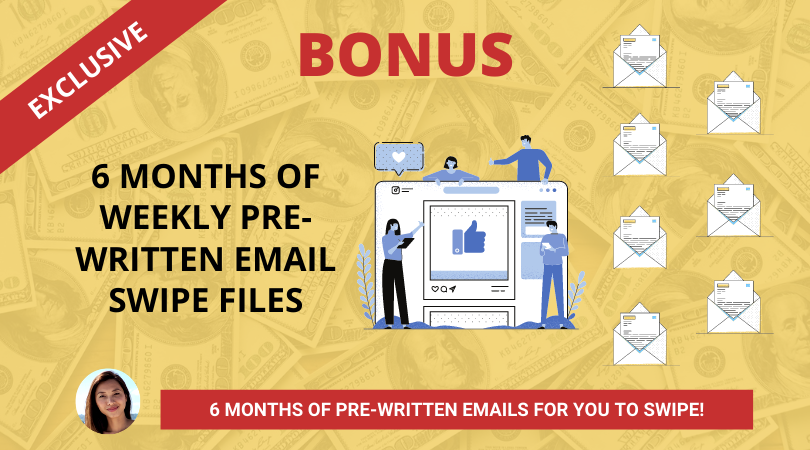 Writing emails is a necessity because the money is in the email follow up.
So if you promote or sell digital products, have a online course or membership site...
You NEED these pre-written weekly email swipe files to follow up with your prospects and customers on auto-pilot.
You can have pretty sales funnels but if you don't have follow-up emails, you're leaving money on the table.
When it comes to writing engaging emails, there are dozens of amateur mistakes waiting to trap your success by boring your readers and letting your offers go to the spam box.
Knowing what to write in emails is HARD especially when you're not a professional copywriter.
Professional copywriters charge hundreds and thousands of dollars for writing engaging emails that get opened and clicked on.
What are in these emails?
High converting email copy: Utilize the art of persuasion through words to engage your prospects and increase your open rates and click through rates.
Spam-proof emails: never again worry about your emails going to the spam folder, these pre-written email swipes increases your email delivery rate.
Use these emails to get people to binge read or watch your content and have them take action!
Grab one email or use ALL of the pre-written emails provided and schedule them out for the next 6 months!
Save loads of time, nurture your prospects and customers on auto-pilot using the power of emails. All you need to do is copy, paste, tweak and send!
BONUS # 4: DONE-FOR-YOU GROOVEPAGES "LINK TREE" MICRO LANDING PAGE TEMPLATES
($97 Value)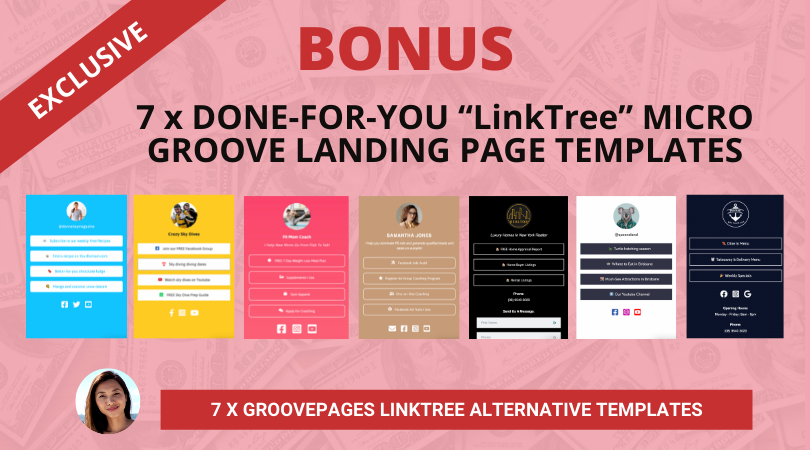 Anyone who uses Instagram and TikTok will know that one of the most frustrating things is that they only allow you to place a single link in your bio.
This isn't ideal if you're trying to promote several things at once, so what now?
Use my 7 done-for-you GroovePages Micro landing page templates as a "LinkTree alternative" in ALL of your social media bio (not just on Instagram).
Forget paying $6 per month subscription for LinkTree, clone my templates in seconds and:
✔️ Add multiple links to all your social media profiles
✔️ Promote new products, blog posts, videos and more
✔️ Build your email list by adding a popup within the templates
✔️ Link to your opt-in page or sales page
✔️ Customize them easily with GroovePage's drag and drop editor
✔️ Embed your Google Analytics and ad tracking with GroovePages settings
There is so much more flexibility with these GroovePages micro landing pages because you can add popups, integrate other Groove apps (like GrooveSell), track links and build your email list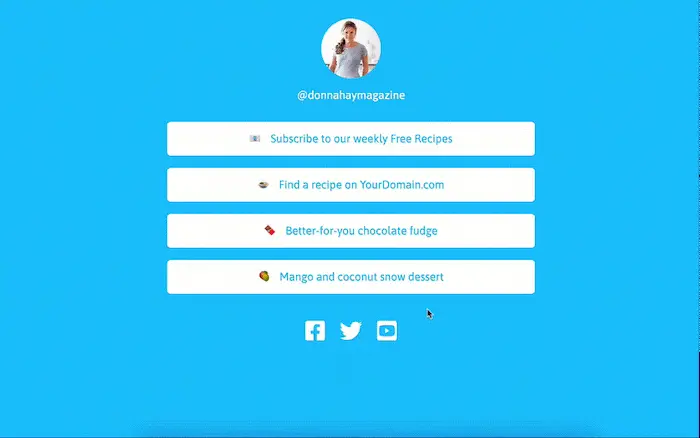 You get access to these 7 pre-designed Micro Landing Page templates:
LinkTree Template #1: Magazine or Blog theme
LinkTree Template #2: Product & Service theme
LinkTree Template #3: Health Coach theme
LinkTree Template #4: Coach or Consultant theme
LinkTree Template #5: Simple theme
LinkTree Template #6: Restaurant theme
LinkTree Template #7: Real Estate Agent theme
Just swap out to your images, copy and you're good to go!
BONUS # 5: DONE-FOR-YOU GROOVEPAGES BUSINESS WEBSITE TEMPLATE
($497 Value)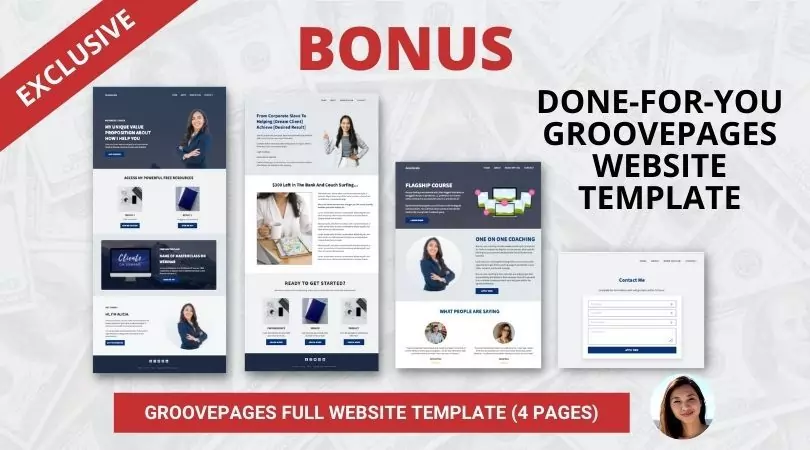 There are many website templates in GroovePages but they're often too busy and hard to edit.
Hiring a professional website designer on Groove can cost you anywhere from $195 to $250 per page...
And if you want custom graphics, it'll cost more.
A four-page business website will end up costing you up to $1000!
Use my done-for-you GroovePages business website template to quickly and easily create your business website.
This website template is ideal for authors, coaches, consultants, and local businesses.
But if you run an agency, you too can use this template to build out websites for other businesses.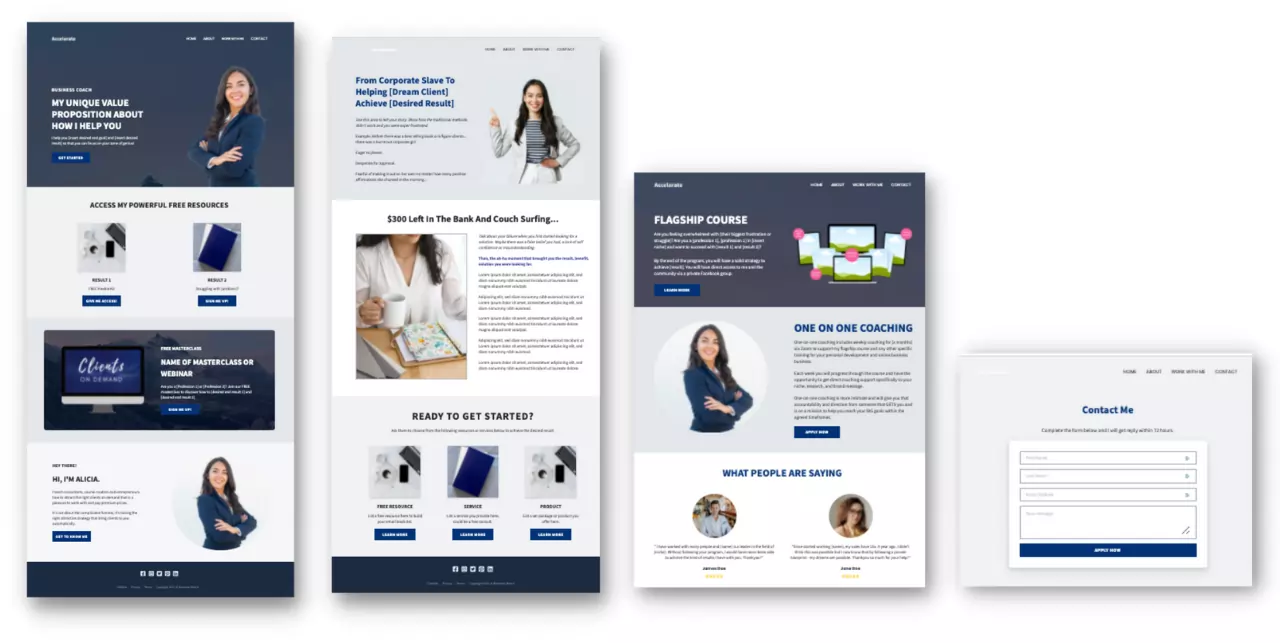 This business template includes:
✔️ Four beautifully designed pages: Home, About, Work With Me, and Contact page.
✔️ Copywriting prompts to help you convert.
✔️ Video guide to implement the template and configure pages.
✔️ A style guide for font styling and color palette reference.
✔️ Responsive and optimized for all devices.
This template is minimalist yet clean so that you can add extra elements on top to make it your own. Just swap out the images, copy, and you're good to go!
BONUS # 6: EARN EXTRA INCOME WITH 130+ LIFETIME COMMISSION AFFILIATE PROGRAMS
($197 Value)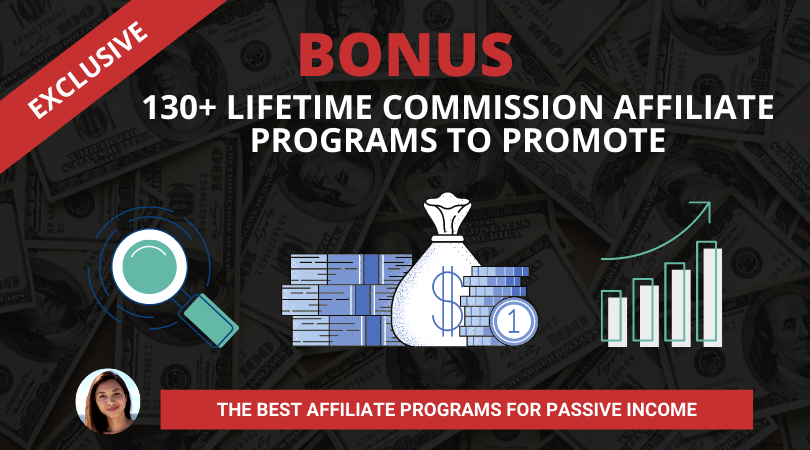 Whether you're selling an online course or have your own products and services, you can always do with more income.
Affiliate Marketing is one of the best ways to supplement your online income and business.
New and advanced marketers promote affiliate programs that have recurring lifetime commissions NOT one-off products.
Affiliate marketing is passive income, scalable, no customer support, no expensive startup costs or inventory and location independent.
Look at the top entrepreneurs or marketers in the industry who have their own products, courses and programs.
You know how they make money every month in addition to selling their programs?
They're increasing their income by promoting the tools they using to run their online business. More often than not, these tools and softwares have recurring affiliate income.
I've done the hard work for you and spent time researching, filtering and collating the best 130+ lifetime recurring affiliate programs you can promote to supplement your income.
BONUS # 7: MILLION DOLLAR FACEBOOK ADS SWIPE FILE
($197 Value)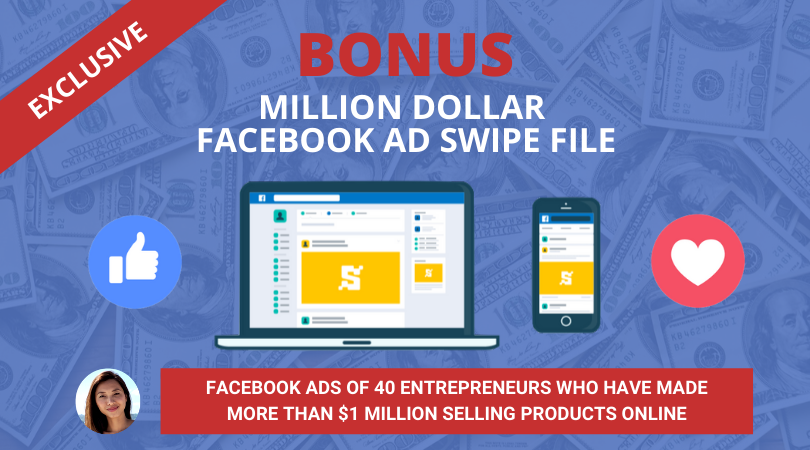 These are the exact Facebook ads that 40 of the top internet marketers are running to generate over $1 million in sales.
Use the ads in this swipe file for market research and inspiration for your own ads or when writing copy.
Save hours of competitor spying and model off the giants who have already made it online.
See their ad copy and study the copy that these top marketers are using to run profitable campaigns.
This will help you figure out what hook, story, and irresistible offer they are using to make people STOP and pay attention.
BONUS # 8: HOW TO HIRE A KICK-ASS VIRTUAL ASSISTANT TRAINING
($197 Value)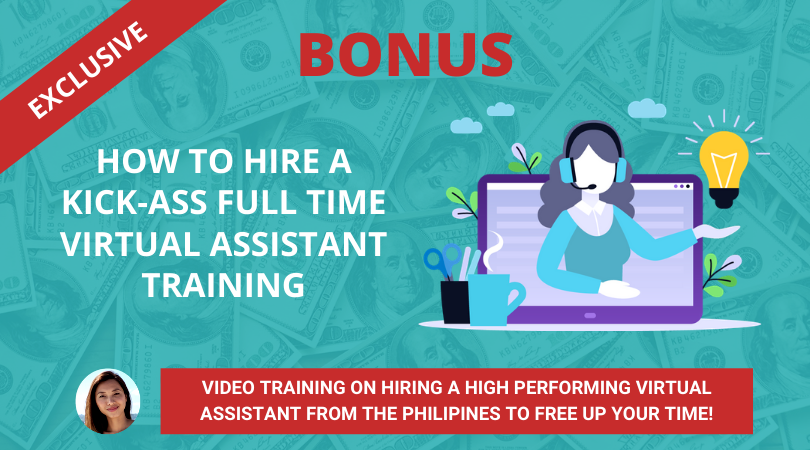 There is only ONE of you and 24 hours in the day. You can't do everything on your own.
If you don't start outsourcing tedious jobs, eventually you'll burn out and give up.
I don't want that to happen to you.
I spent years working on my own and the moment I got a virtual assistant, my income sky rocketed.
I was able to focus on my zone of genius and perform more of the money making activities.
You can get a virtual assistant for as low as $25 per day, working 8 hour per day for you.
Here are the tasks I give to my VA:
Social media images
Editing videos for Youtube
YouTube optimization
Transcribing videos
Creating blog posts
Content calendar creation and more!
Trust me, you'll never run out of tasks to give to your assistant.
Basically, whatever content you can imagine sharing through your website or sales funnels, a virtual assistant can help you create it.
Get my video training and messaging templates that I used to hire a VA for a fraction of the cost.
More importantly, the process I use to filter down applicants and hire a high-performing VA who gets stuff done!
BONUS # 9: HIGHLY PROFITABLE NICHE LIST
($97 Value)
Finding and choosing a profitable niche is ONE of the most important things you need to get RIGHT from the start.
Being in an unprofitable niche sucks because you could have spent the countless hours making money elsewhere.
I've been in the marketing, dating, health, local business, consumer goods, financial, home crafts niche and more!
I've implemented small and large campaign in several niches over the last decade so you tend to know which niches are profitable.
Here's the secret… the most profitable niches to start an online business in is:
HEALTH, WEALTH & RELATIONSHIPS
Well it's not so secret 🙂
These are mass market niches that have tough competition. The key is to finding various sub-niches within these huge niches to get a piece of the action.
In this profitable niche list, you'll find specific examples of profitable sub-niches and hobbies you can go after that make make bank.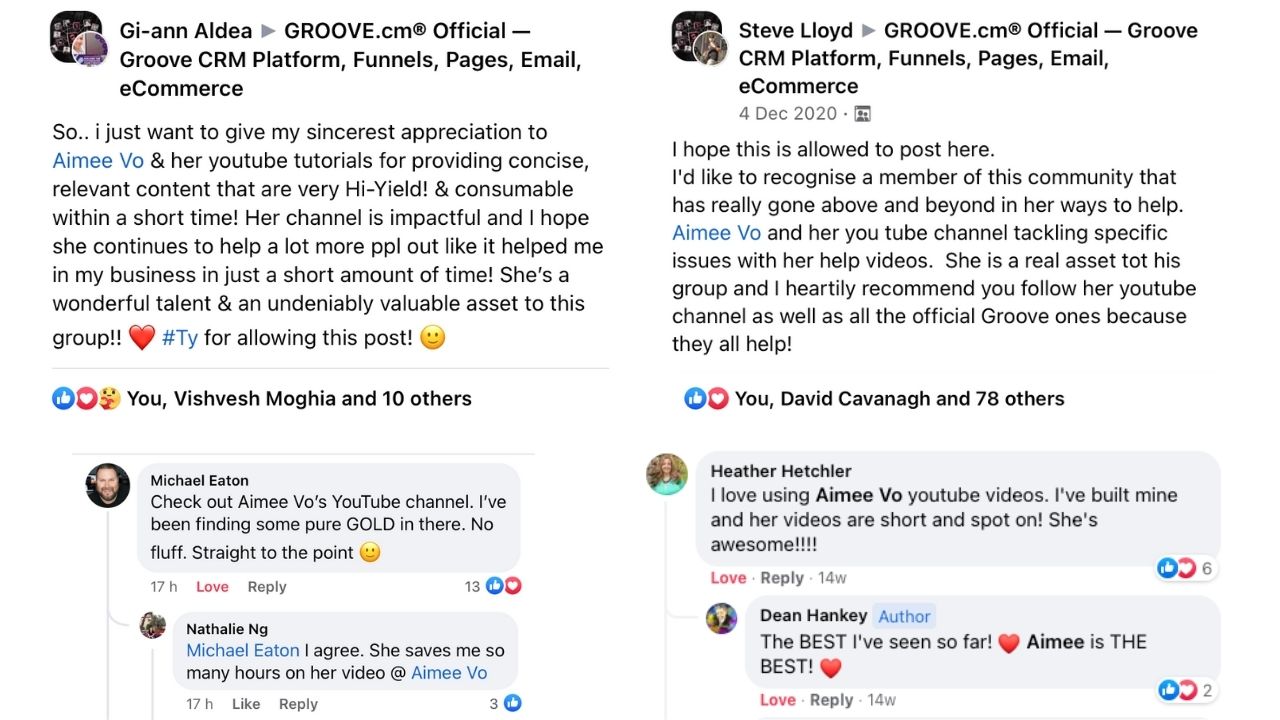 Ready To Claim Your Bonuses?
(Yes, it's the same video on top of this page)
1. If you're brand new and haven't signed up yet: click on the green button below by hovering over it, right click > "open link in Incognito window".
2. On both the Free sign up page + Lifetime upgrade page, use the SAME email.
3. Check that you see my id referrer id: v3482 is underneath the complete purchase pink button and create your account.
4. Once you've created your account: login to Groove with the email you used to sign up > click the pink upgrade button

(top right corner)

> Check that you see my id referrer id: v3482 is underneath the complete purchase pink button and you're good to go!
(Remember to use the SAME email for the Free and Lifetime when you upgrade as per the video demo)
>> CLAIM YOUR BONUSES & UPGRADE TO LIFETIME